Need advice?

What size of installation do I need?
Where should I install the panels?
What type of panel should I choose?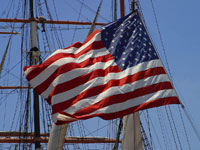 All panels are made in our state-of-the art facility
in Anacortes, WA

razor-thin, nothing protruding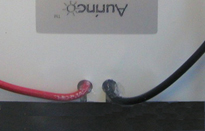 recessed wires, flat back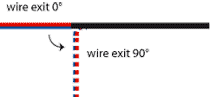 wire exit through deck or on top
We are sorry to say goodbye to our customers, many of whom have become friends. After 10 years in the marine solar panel business we find it increasingly difficult to compete with imports from low-labor cost countries, often brought in using forged certificates of origin. We have been proud to pay decent American wages, we have also considered automation but the marine market is too small to support such an investment. So Patrik and Cordelia, the owners of Aurinco and now in their 70's, are retiring*.
*Except Patrik is not stopping work entirely, he will still design custom installations and high tech carbon fiber solar modules. You can contact him by sending a text message to: two o six double two double eight thirtynine o (hope this beats the robots and still is decipherable)
Closing out half-price sale
50% discount on all solar panel prices below. Not all models remain in stock and some may require time for us to assemble from parts. For availability, contact us by email info@aurinco.com or phone (877) 433-8640 (leave a message if no answer). Sales are final after 30 days, no warranty or other support beyond.
Check also our bargain page for deals!
Compact™ 36 ST

Built on G10 composite with very high efficiency mono cells. and a textured fluorocarbon surface. The cells are arranged in 2 parallel circuits for better shade tolerance. Options include an extra sturdy plate and a fabric dodger/bimini mount. A single circuit version for 24V battery charging is also available.

Length
Width
Power
Price

Limited stock available

26 1/2" (673 mm)
13 5/8" (344 mm)
36-39 W
from $345
Compact™ 55 ST

Built on G10 composite with very high efficiency mono cells. and a textured fluorocarbon surface. The cells are arranged in 3 parallel circuits for better shade tolerance.

Length
Width
Power
Price

Limited stock available

39 1/4" (997 mm)
13 5/8" (344 mm)
55-58 W
$518
Compact™ 73 ST

Built on G10 composite with very high efficiency mono cells. and a textured fluorocarbon surface. The cells are arranged in 4 parallel circuits for better shade tolerance. Options include an extra sturdy plate and a fabric dodger/bimini mount. A 2 circuit version for 24V battery charging is also available.

Length
Width
Power
Price

27 1/8 (688 mm)
26 1/2" (673 mm)
73-77 W
from $690
Compact™ 110 ST

Built on G10 composite with very high efficiency mono cells. and a textured fluorocarbon surface. The cells are arranged in 6 parallel circuits for better shade tolerance. A 3 circuit version for 24V battery charging is also available.

Length
Width
Power
Price

40 5/8" (1032 mm)
26 1/2 (673mm)
110-116 W
from $1,035
Compact™ 147 ST

Built on G10 composite with very high efficiency mono cells. and a textured fluorocarbon surface. The cells are arranged in 8 parallel circuits for better shade tolerance. A 4 circuit version for 24V battery charging is also available.

Length
Width
Power
Price

54 1/4" (1376 mm)
26 1/2 (673mm)
147-154 W
from $1,380
Suncatcher 38

Built on G10 composite with very high efficiency mono cells. and a textured fluorocarbon surface. The cells are arranged in 2 parallel circuits for better shade tolerance. A version with a single circuit for 24V battery charging is optionally available.

Length
Width
Power
Price

26 1/2" (673 mm)
14 1/4" (362 mm)
39 W
$425
Suncatcher 57

Built on G10 composite with very high efficiency mono cells. and a textured fluorocarbon surface. The cells are arranged in 3 parallel circuits for better shade tolerance.

Length
Width
Power
Price

26 1/2" (673 mm)
21 1/8" (537 mm)
59 W
$625
Suncatcher 75

Built on G10 composite with very high efficiency mono cells. and a textured fluorocarbon surface. The cells are arranged in 4 parallel circuits for better shade tolerance. A version with 2 parallel circuits for 24V battery charging is optionally available.

Length
Width
Power
Price

26 1/2" (673 mm)
28 1/8" (712 mm)
78 W
$825
Suncatcher 94

Built on G10 composite with very high efficiency mono cells. and a textured fluorocarbon surface. The cells are arranged in 5 parallel circuits for better shade tolerance.

Length
Width
Power
Price

26 1/2" (673 mm)
35" (887 mm)
98 W
$1,025
Suncatcher 113
Built on G10 composite with very high efficiency mono cells. and a textured fluorocarbon surface. The cells are arranged in 6 parallel circuits for better shade tolerance. A version with 3 parallel circuits for 24V battery charging is optionally available.
Length
Width
Power
Price

26 1/2" (673 mm)
41 7/8" (1062 mm)
117 W
$1,225
Suncatcher 132

Built on G10 composite with very high efficiency mono cells. and a textured fluorocarbon surface. The cells are arranged in 7 parallel circuits for better shade tolerance.

Length
Width
Power
Price

26 1/2" (673 mm)
48 3/4" (1237 mm)
137 W
$1,425
Suncatcher 150

Built on G10 composite with very high efficiency mono cells. and a textured fluorocarbon surface. The cells are arranged in 8 parallel circuits for better shade tolerance. A version with 4 parallel circuits for 24V battery charging is optionally available.

Length
Width
Power
Price

26 1/2" (673 mm)
55 5/8" (1412 mm)
156 W
$1,625
Bluewater™ 18

Built on G10 composite with very high efficiency new mono cells. and a textured fluorocarbon surface.

Length
Width
Power
Price

Lead time 1-2 weeks

39 1/4" (997 mm)
4 3/4" (120 mm)
18 W
$190
Bluewater™ 36 ST

Built on G10 composite with very high efficiency mono cells. and a textured fluorocarbon surface. The cells are arranged in 2 parallel circuits for better shade tolerance. A single circuit version for 24V battery charging is also available.

Length
Width
Power
Price

Lead time 1-2 weeks

39 1/4" (997 mm)
9 1/4" (233 mm)
36 W
$380
Compact™ 18

Built on G10 composite with very high efficiency mono cells and a textured fluorocarbon surface.

Length
Width
Power
Price

Lead time 1-2 weeks

14" (356 mm)
14" (356 mm)
18 W
$190
Suncatcher 18 and 19 solar tiles

This is not a finished solar panel but a component for building a customized solar installation, aimed mainly at boatbuilders and professional refitters. It has two solder tabs/lugs instead of wires on the back. Built on G10 composite with very high efficiency mono cells. and a textured fluorocarbon surface.

Length
Width
Power
Price

Specs

26 1/2" (673 mm)
6 7/8" (175 mm)
18/19 W
Inquire